Data and information are critical assets that drive accountability, enable deep insights and inform decisions.
We are living in the age of information, which comes with challenges in governing, harnessing, managing, protecting, using and reusing the vast amount of information and data we're generating.This is why in NSW Government information management is seen as a key component of the digital transformation of NSW Government so that we can continue to leverage value for businesses and the community.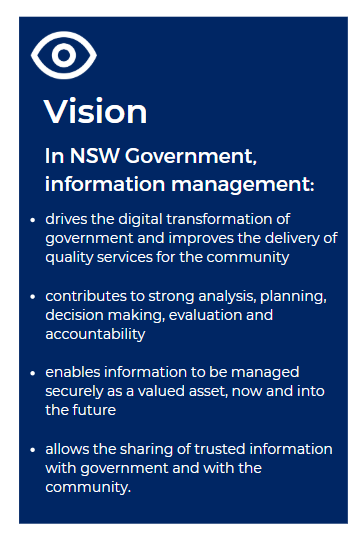 The NSW Information Management Framework (IMF) is a practical tool that outlines a shared direction for information management in the NSW public sector.
The purpose of the IMF is to:
Coordinate management of all forms of government information
Drive information access and sharing across the sector
Increase management of information as an asset
Foster information maturity and capacity
Consolidate and share knowledge
Build community trust in government information management.
The IMF can help professionals from a range of fields communicate, collaborate and define how to manage and leverage data and information in their digital transformation initiatives. 
The IMF: 
applies to all forms of information, data and records created and managed by the NSW public sector
can be used by agencies to benchmark their current information management practices and to identify aspects of information management that require capability improvement
encourages whole of government maturity and consistency in information management
is a tool to support the integration of coordinated information management into broad business and project management practices.
The IMF focuses on the Vision, Principles, Requirements, Governance and Capabilities of information management across NSW Government.
Last updated 02 Jun 2020