The NSW Government Data Strategy sets a collaborative, coordinated, consistent and safe approach to using and sharing data and insights across government to inform decisions and actions to achieve the best possible outcomes for the people and businesses of NSW. 
Importantly, the Strategy complements the NSW Beyond Digital Strategy which guides NSW Government to use data and insights to understand our customer's needs and to enhance our services to provide a better and more targeted experience for them in line with our customer commitments. Data is at the heart of key NSW Government strategies and policies, including on Artificial Intelligence (AI), Smart Places, Internet of Things (IoT) and the State Infrastructure Strategy, which states:
 
"The massive growth in data means that it is becoming a vital infrastructure asset in its own right – one that is critical to developing new innovative services, improving current services and increasing the productivity and performance of assets."
Putting customers at the centre of everything we do requires a connected government where the data and insights we collect and create are used and shared across government, in a manner that is consistent, and compliant with privacy and other legislative requirements and ethical standards. This will advance our capability to deliver on the Premier's Priorities, including being a world-class public service, and the State Outcomes, through enhanced data sharing and use.
 
Stronger Communities Data Partnership
The Stronger Communities Data Partnership is an example of the power of strong partnerships between NSW Government agencies, developing the Human Services Data Set as an integrated and enduring state significant data asset for use by NSW government agencies, service providers and researchers to drive better long-term outcomes for vulnerable children and their families.
National Disability Data Asset (NDDA)
NSW is playing a key role in hosting a national project team that supports governments across Australia to deliver the pilot project of the National Disability Data Asset (NDDA). The NDDA is bringing together data from across Australia, relating to people with a disability. Developing an unprecedented person-centered and system-wide approach to understanding disability in Australia will facilitate better, more inclusive services and improved life outcomes.
The NSW Government's data-driven response to COVID-19 forged strong collaboration across departments and agencies, supported by a centrally coordinated data program that resulted in unprecedented levels of data sharing across NSW Government as well as with the Australian Government and other jurisdictions, and third parties. This enabled high levels of responsiveness to the information needs of decision-makers and the community.
The adoption of this strategy will build on these successes, harnessing areas within departments and agencies with existing capability and increasing the data maturity of the rest of NSW Government.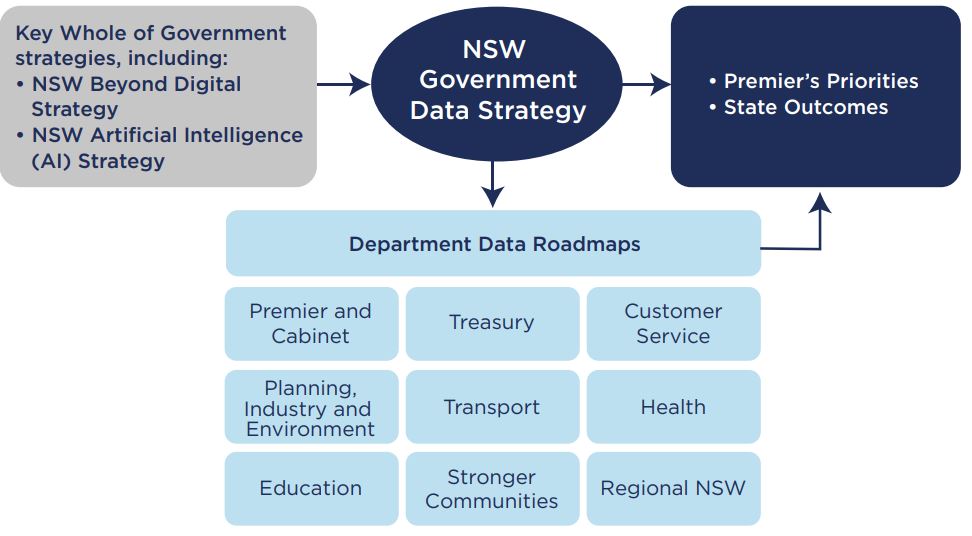 The NSW Government Data Strategy applies to all NSW Government departments and agencies.
Chief Data Officers are responsible for ensuring the strategy is applied within their departments and agencies, including by developing and implementing Data Roadmaps which are high level plans that set out the actions and milestones for alignment to the Strategy and their own strategic objectives. The NSW Government Data Leadership Group has oversight of the Strategy.
Our approach
In developing the Strategy, we talked to data practitioners and senior stakeholders across the government sector and academia about how to rapidly build our data maturity and embed our learnings from responding to bushfires, floods, and COVID-19. Based on the consultation, four themes emerged as key to ensuring the NSW Government is positioned to excel in our use of data, now and into the future.
The NSW Government Data Strategy is comprised of four Themes, each of which is underpinned by a set of Principles and sector-wide Actions associated with that theme. The themes are:
Accelerating actionable insights
Treating data as an asset
Strengthening transparency and trust
Fostering culture, leadership, and capability
The themes are inter-related and complementary – for instance, a strong data culture promotes the use of actionable insights in decision-making.
Although the Strategy aims to improve the way we use and share data across government, this cannot be achieved without the effective governance and management of data across its lifecycle.
Case studies are used throughout the Strategy to illustrate the themes by reference to current and future data projects and approaches. Additional case studies are provided at Case Studies.
Last updated 10 May 2023