The NSW Data Analytics Centre (DAC) aims to encourage government-wide data-sharing and collaboration. Government agencies have traditionally been responsible for achieving objectives within their own department, constrained by budget and resources. The creation of a central data platform facilitates data-sharing and collaboration, combating operational silos and focusing on state-wide outcomes. 
The DAC provides a safe and secure data environment to enable data sharing across government agencies, as well as enabling effective publishing and re-use of Government data to inform delivery of better social and economic outcomes. In order to achieve this the DAC has strong technical, legal and ethical controls. Our data governance and data protection practices are built around our data protection framework as outlined below. We strongly adhere to data sharing and privacy legislation to ensure the data assets it holds are safe, trusted, accurate and reliable.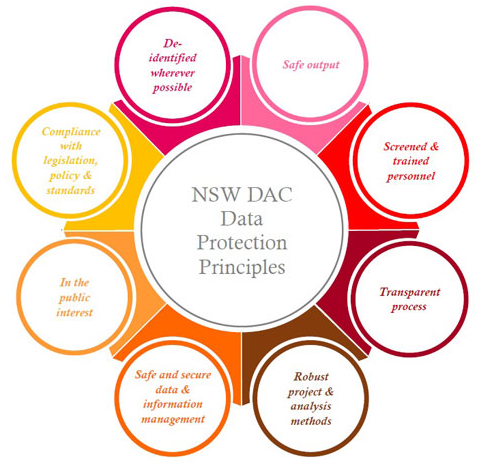 The DAC's platforms approach combines data engineering, data security and data governance expertise with agile and lean methodologies, and independence from traditional IT operations, to appropriately safeguard and govern data separately from business systems, processes and staff, as well as appropriate access controls and monitoring of access and usage. The DAC Security statement outlines DAC's commitment to strong security and the Data Breach Response Plan sets out the process to be followed by the DAC staff in the event of a data breach.
To further strengthen data protection, the DAC is working with agencies and data linkage, privacy, legal and ethics experts to develop a whole of government approach to linked data in NSW that supports customers and governments to make better decisions and achieve better outcomes using appropriately managed and protected linked data assets.
Last updated 08 Aug 2023