Data.NSW federates over 10000 datasets that span everything from train usage to school location and enrollment numbers. These datasets are used across government and industry to make information accessible and assist in making better-informed decisions. In this data story we highlight the work that our colleagues at Revenue NSW are doing to facilitate the return of unclaimed money to citizens and businesses across NSW.
In NSW, businesses and public sector superannuation funds send information to Revenue NSW about money owed to people they can't find. This might be because they have moved address, changed their name, lost the paperwork or forgotten about it. In some cases, money is owed to someone who has died.
As of December 2019, there is more than $400M in unclaimed payments owed to people across NSW, with owed amounts dating as far back as 1980. This tree map breaks down the types of money owed by dollar value.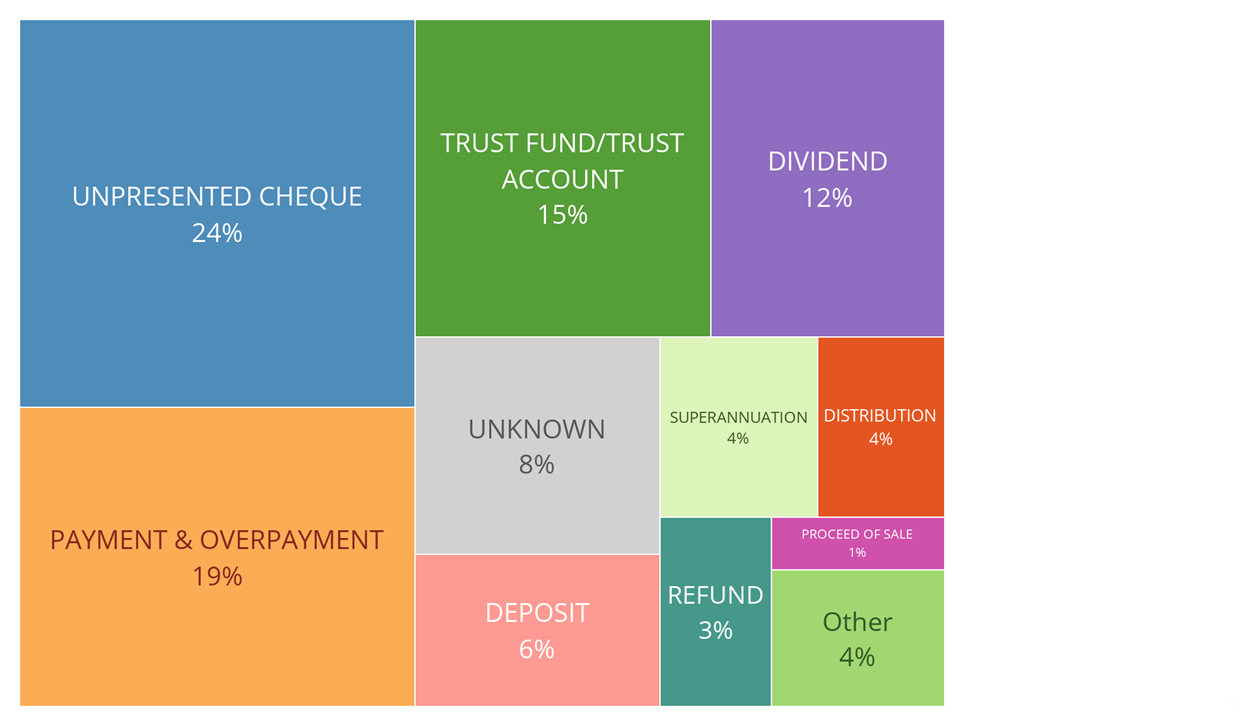 Unpresented cheques constitute the largest portion, with 24% of the segment, while trust fund accounts, overpayments from purchases and dividends each constitute over 10% of the aggregate.
Where is the money?
Revenue NSW encourage enterprises to provide the last known address of the owner of the money. From this provided data, insights pertaining to the origins of the missing money can be derived. This includes the suburbs with the highest cumulative sums of unclaimed payments. The locations with the highest dollar sums of unclaimed payments are in the Western suburbs of Sydney:
Top 5 suburbs by unclaimed amount

|  Suburb | Unclaimed Amount |
| --- | --- |
| Cabramatta | $1.05M |
| Georges Hall | $520,000 |
| Earlwood | $510,000 |
| Erskineville | $470,000 |
| Parramatta | $410,000 |
It is also possible to examine locations with the highest distribution of unclaimed items. Rather than measuring unclaimed items in terms of dollar value, this looks at the count of potential claims. The highest concentration of potential claims is found in the Northern and Eastern suburbs of Sydney. 
Across NSW, there are unclaimed items registered to addresses in every postcode in the state, with the largest concentrations in urban centres.
Number of unclaimed items by NSW postcode: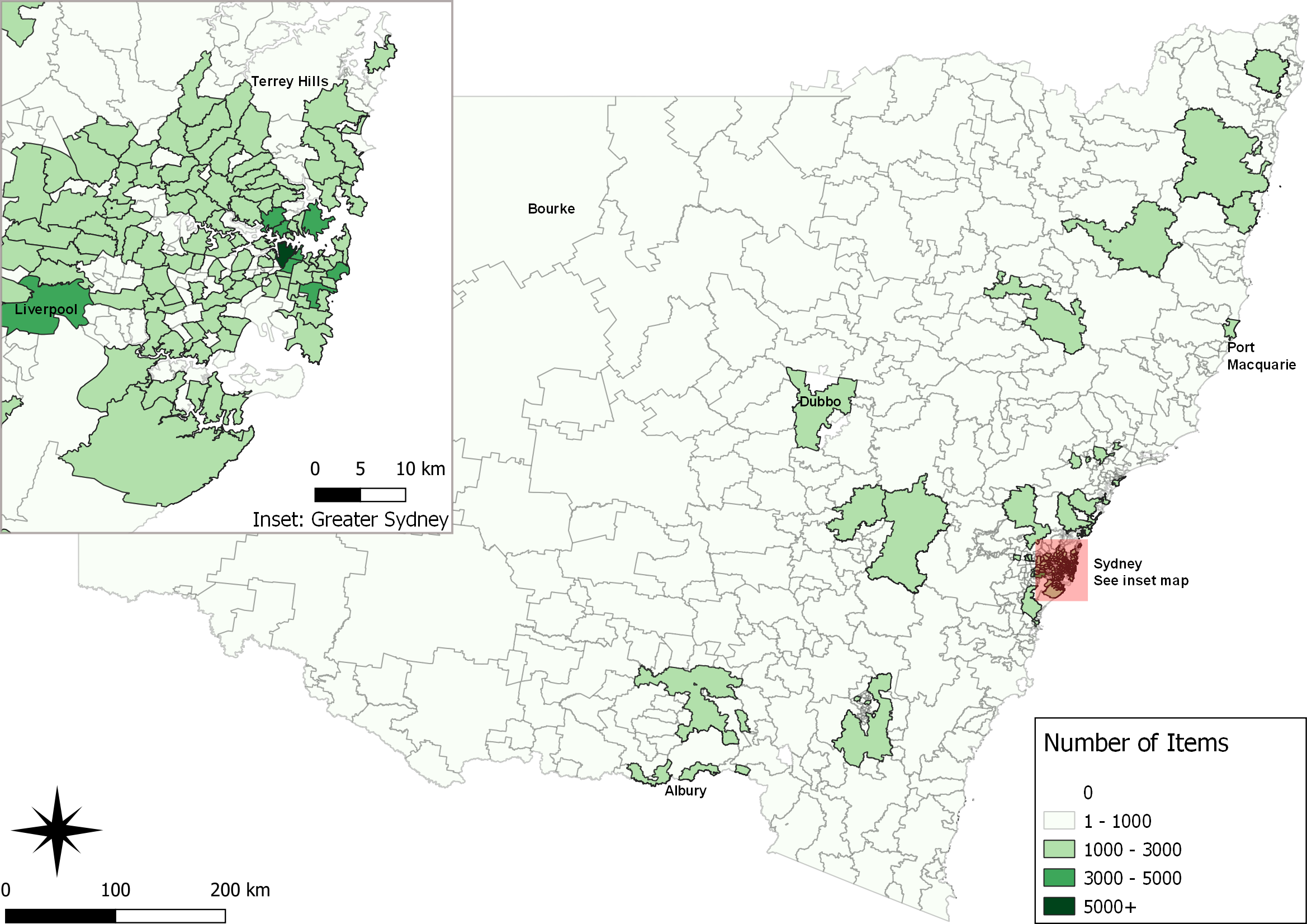 Compounding the difficulty of returning the unclaimed items to their owners is that many owner addresses are registered to locations outside of New South Wales and even overseas. Of the address entries that list an Australian state or territory, nearly half of the total is from outside NSW: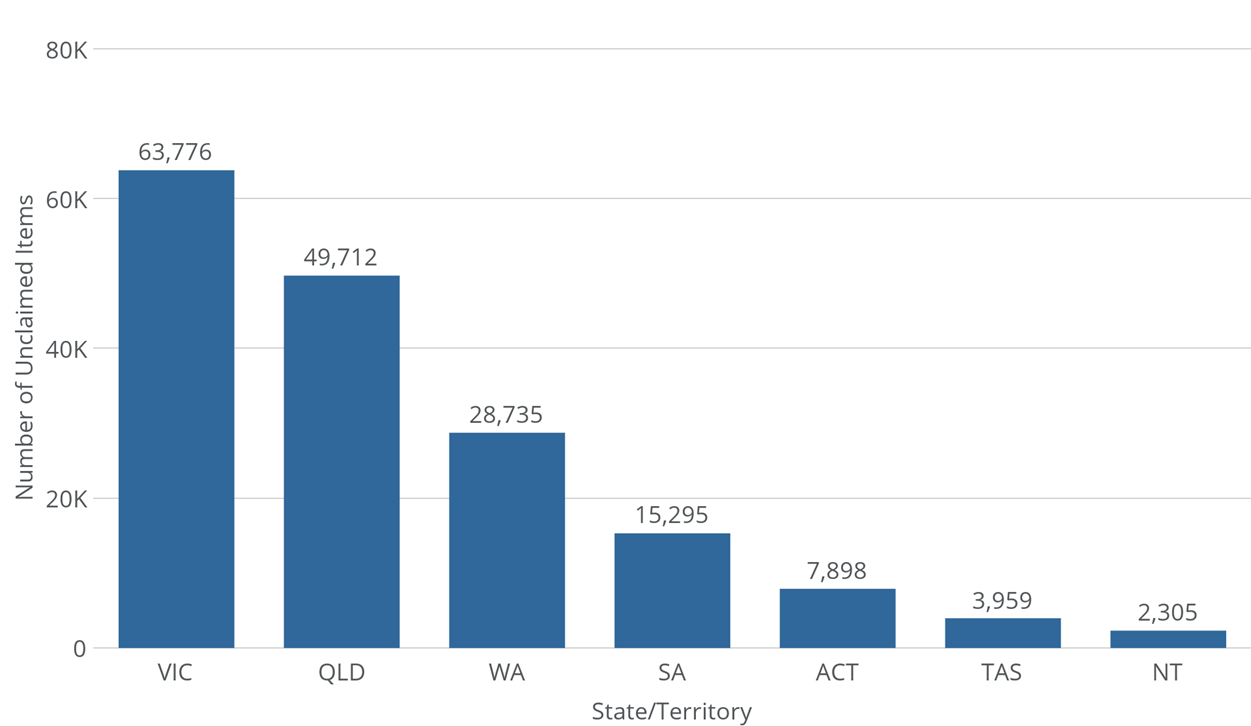 It's quick and easy to check if you have unclaimed money. Simply visit the Unclaimed Money portal on Revenue NSW and type your name into the free search tool.
Get your unclaimed money!
The monies listed on the Revenue NSW Unclaimed Money portal belong to people and businesses. Please share the Unclaimed Money link with your colleagues and friends. 
We are working hard to make even more datasets available to the public and show some of the insights that can be wrangled from open data. If you know anyone who has done something interesting with open data, please get in touch with us at DataNSW@customerservice.nsw.gov.au