Data.NSW proudly supports Privacy Awareness Week from 2 May to 8 May 2022. The theme this year is 'Privacy: The foundation of trust – we all have a role to play'.

Privacy Awareness Week is an international campaign that highlights the importance of protecting personal information.  In NSW the week promotes the understanding of privacy legislation and aims to raise awareness of a person's privacy rights and agency obligations under NSW privacy legislation for both government agencies and residents. 

Data.NSW promotes the safe use and sharing of data across NSW government to delivers better outcomes for people, families and local communities by giving access to downloadable open data such as the total number of COVID-19 cases and test numbers.  The agency also promotes data collaboration and innovation across government whilst building trust and providing transparency and openness through publishing data safely.

One tool used to assess the risks of re-identifying personal information is the Personal Information Factor Tool (PIF). It allows Data.NSW to protect an individual's privacy online before releasing the data as open datasets. 

What is PIF?
NSW Chief Data Scientist Dr Ian Oppermann, explains that "PIF uses Information Theory, otherwise known as the study of digital information, to calculate privacy risk in a dataset. The tool makes recommendations for sharing data based off associated risks and is run as a semi-automated process for select Data.NSW datasets.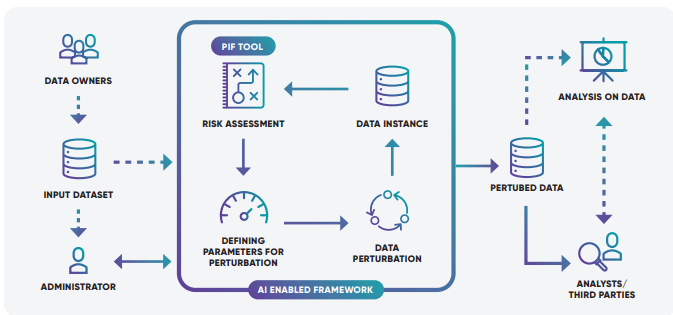 [Source: Cyber Security Cooperative Research Centre]
Sharing data using trusted frameworks 
In 2021, NSW released its Data Strategy which sets a collaborative, coordinated, consistent and safe approach to using and sharing data and insights across government. 
Since its launch the strategy has been conveying the frameworks based on levels of control or trust in users, governance frameworks and the quality of the data itself. The strategy is used alongside the Trust Framework which is used to manage risks associated with sharing data through assessing and creating appropriate controls in environment throughout the data life cycle. 
More information about the Trust Framework can be accessed here.