The NSW Data Analytics Centre (DAC) aims to encourage government-wide data-sharing and collaboration. Government agencies have traditionally been responsible for achieving objectives within their own department, constrained by their own budget and resources. The creation of a central data platform facilitates data -sharing and inter-departmental collaboration, combating operational silos and focusing on state-wide outcomes that are greater than the sum of their parts.
The DAC applies an agile, stakeholder-focused approach to projects, characterised by short iterations and frequent client engagement. Specific outcomes are fluid, as enhanced learnings throughout the process influence how goals are met. This approach optimises the client experience, as service delivery is collaborative and adaptable. Each project begins with the joint development of a 'Lean Canvas' including relevant data, key questions, desired outcomes, etc., which sets uniform expectations amongst stakeholders.
The DAC originally approached projects in Cabinet-approved rounds, covering issues from improving pedestrian safety to investigating property overcrowding. Opportunities have since been identified and taken on from NSW government agencies across the board. Some projects have progressed through several phases; from an initial proof of concept to the creation of government IP, which may be commercialised and sold to other government agencies and potentially even the private sector. 
Data Protection Principles
As a trusted host and user of whole of government data, NSW DAC has developed The NSW DAC Data Protection Principles, containing the details of a number of data security and protection controls. The Principles are informed by safe and secure data management and analytics best practice models from Australia, New Zealand, the UK and EU.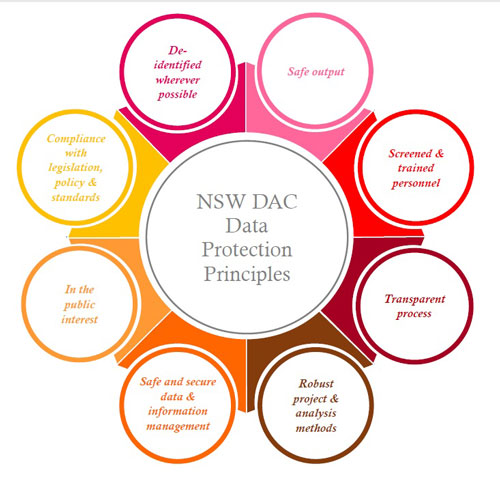 Last updated: 19 June 2019