The NSW Government currently manages infrastructure assets worth more than $300 billion. Since 2013, the Government has invested more than $111 billion in building infrastructure to improve the lives of the people of NSW. In 2016-17, expenditure on asset management was $4.1 billion – a figure that is expected to increase due to the growth and age of assets. The NSW Government continues to invest significant resources across the asset lifecycle of state infrastructure, with an additional $93 billion of NSW government capital expenditure planned between 2019 and 2023, with further expenditure committed beyond this timeframe.  
Investing in and using technology and data to help optimise the management and operations of current and planned infrastructure assets will be critical. Infrastructure data has become an important part of state infrastructure and must be managed better to improve the benefits from the data and assets, i.e. to achieve the greatest benefit the data must be managed as an asset in its own right. 
Without a coordinated approach to management of infrastructure design, construction and operational data, NSW Government will duplicate, waste, create and recreate valuable asset data, while failing to achieve additional value from the data during operations, maintenance, services and innovation. Investing in and making better use of data about existing infrastructure greatly improves the planning and delivery of new infrastructure. Efficiencies and savings can be generated through enhanced management of infrastructure data:  
during strategic planning, planning and delivery of new projects 
across program portfolios 
in state-wide asset management including operations and maintenance. 
Infrastructure Strategy
The 2018 NSW State Infrastructure Strategy (SIS) proposed a series of recommendations to position NSW as an advanced user of smart Information and Communications Technology (ICT) to support state growth and digitally transform our approach to smart infrastructure.  
Data on infrastructure can support better decision making across the infrastructure lifecycle. Smart ICT, such as sensors, provide information on the performance of infrastructure systems. As smart ICT is deployed across the State's infrastructure network, infrastructure-related data will become increasingly important in its own right. It will contain real-time performance information, including data on customer use. This rich information can be used to inform evidence-based, data-driven decisions, enhancing the efficient delivery, operation and maintenance of infrastructure for the people of NSW. 
Structure of the IDMF
The IDMF provides guidance to NSW Government and Agencies on the application of better practices on infrastructure data management.  The IDMF is structured around the following areas: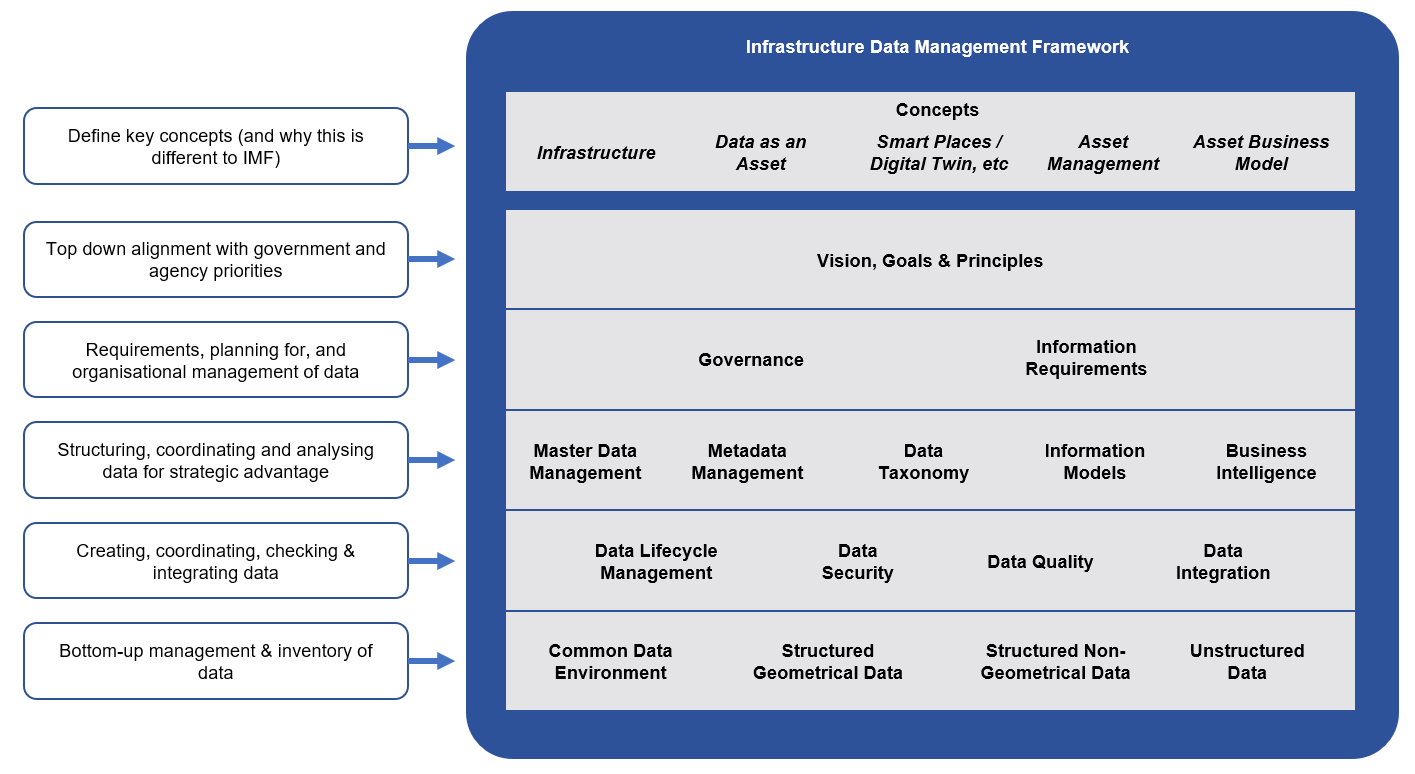 Vision, Goals and Principles, which provides a top down alignment with government and agency priorities 
Key Concepts, which defines key concepts related to the IDMF 
Data Governance, which outlines the requirements for organisational structure and discipline in management of data 
Information Requirements, which identifies the requirements for data 
Data Structure and Coordination, which provides more information on key topics related to the structuring, coordinating and analysing data for strategic advantage 
Data Management and Practice, which outlines the activities associated with creating, managing, checking and integrating data 
Data and Enablers, which provides a bottom-up management perspective on data sources and key enablers required for data management, and 
Next Steps, which outlines a high-level approach or agencies to consider in refreshing their approach to management of infrastructure data. 
The IDMF, as a key SIS initiative, comprises: 
a principles-based approach to support consistent implementation of infrastructure data improvements across the state 
Common policies, frameworks, standards and other guiding information as foundation elements 
Identification of information requirements, which outline generic infrastructure related information requirements at an organisational level, and how that cascades down in the various phase of the asset lifecycle 
Identification of information models in response to information requirements, which are supported by data management requirements at each phase of the asset lifecycle 
Additional guidance and training materials providing more information on specific topics and training. 
The NSW Information Management Framework (IMF) published in late 2018 outlines a shared direction for information management in the NSW Government. The IDMF extends the IMF to provide sufficiently detailed guidance to support the management of information and data relating to state infrastructure, which includes information and data related to assets such as utilities (e.g. energy and water), transport (e.g. land and water), communications, and the built environment. These elements work together to provide the data outcomes required from government owned and other state infrastructure.  
Who is the IDMF for?
The primary audience is NSW Government agencies with infrastructure assets. Budget Material Agencies, State-Owned corporations, public financial corporations and local governments are encouraged to adopt relevant elements of the IDMF on new capital projects, including: 
Infrastructure 
Equipment 
Property developments 
Operational and internet of things technologies that form components of a capital project.
Are all these categories of capital projects relevant for application of the IDMF? Are there others that should be included? This application scope is based on the NSW Infrastructure Investor Assurance Framework
Contact the IDMF development team via email to give us your opinion. 
The approach described in the IDMF is relevant to the assessment of existing asset data, planning for new data and improvements to existing assets, as well as for planning for data management of new assets. 
Local governments will also find the IDMF useful, taking into consideration that some of the specific policies and obligations in the IDMF may not apply to organisations outside of the NSW Government.  The majority of the advice should still be relevant and applicable for local governments as well. 
How does the IDMF relate to other policies?
The IDMF is one of a suite of NSW policies, framework, standards and guidelines that have been developed to inform agencies on NSW Government requirements on information and data.  Figure 2 shows the related documents that should be read in conjunction with the IDMF.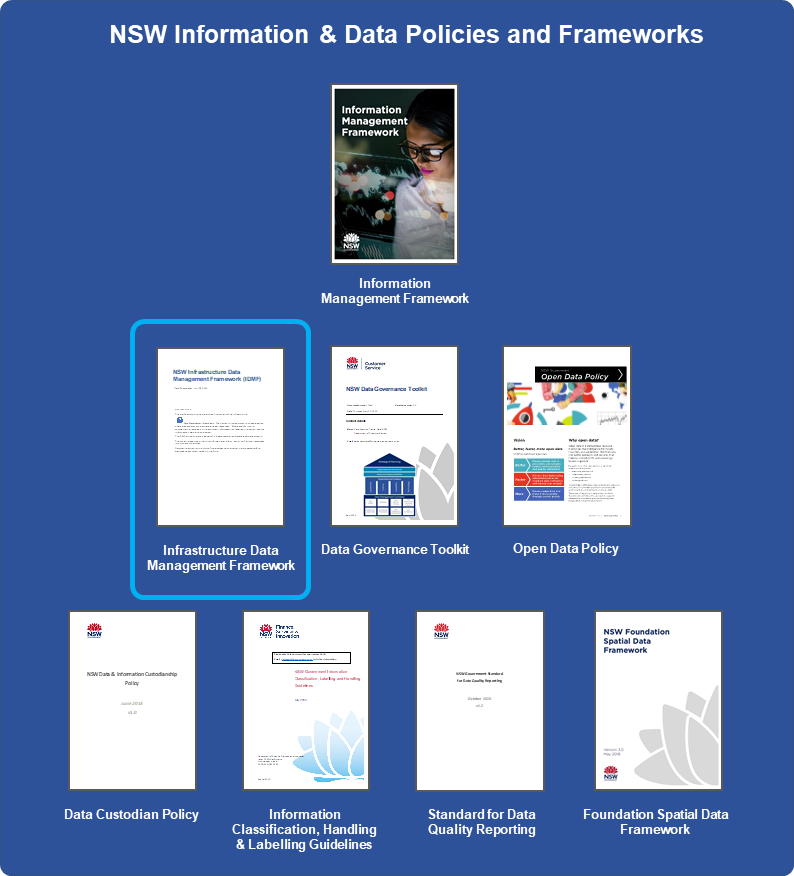 NSW strategies
Legislation and regulation
NSW policies
NSW government frameworks
National agreements
The Framework is not intended to override existing agency policies and standards where they exist. Instead, it provides guidance and supplementary information for the development of agency policies and standards as they are developed or reviewed. It is important for project managers to contact their internal subject matter experts and teams for guidance on agency specific policies and standards and how these relate to the requirements of this Framework. 
The development of the IDMF has also been informed by other frameworks, including from the International Organisation for Standardisation (ISO), from public and academic agencies in the United Kingdom, by the Victorian Digital Asset Strategy, as well as by innovative work in the digital engineering field conducted at agency level by Transport for NSW and NSW Health. 
The IDMF will continue to evolve concurrently with developments in other jurisdictions, and NSW will continue to work closely with our national and international counterparts to ensure alignment wit
Maintaining the Framework
Infrastructure data is rapidly evolving, and associated policies should be flexible and adaptable enough to accommodate changes.  
To ensure its usefulness, this Framework will be regularly updated as technologies change, opportunities and risks are better understood, associated and appropriate standards are developed, and the NSW Government's infrastructure data maturity grows.  
The IDMF has been developed by the NSW Data Analytics Centre as part of the Department of Customer Service (DCS) portfolio of State Infrastructure Strategy projects. We have worked closely with other areas in DCS, Infrastructure NSW, Department of Planning, Industry and Environment, Transport for NSW, NSW Health, Sydney Water and Property NSW among others.