The IDMF provides a framework for agency analysis, planning and alignment of infrastructure data approaches. It includes an approach to identifying, managing and using data over time, identifies policies and reference standards to be followed and provides guidance to agencies on the steps to be followed in data management.
Agency implementation of the IDMF will include a step-by-step approach to developing a suite of content that aligns broader organisational data management strategy with the information requirements identified in the IDMF for the management of infrastructure data.
The following diagram summarises the inputs, controls, process and enablers identified in the IDMF that support the desired outcome of structured, consistent, secure, reusable and accurate infrastructure data. The direction and impact of each component should be established via desktop research and workshops including functional areas to fully identify existing organisational approaches and decisions where necessary.
Senior executive sponsorship and guidance will be needed in order to gain the support of teams across the organisation. This could be supported by the creation of a cross agency team to investigate and document inputs, controls and information requirements.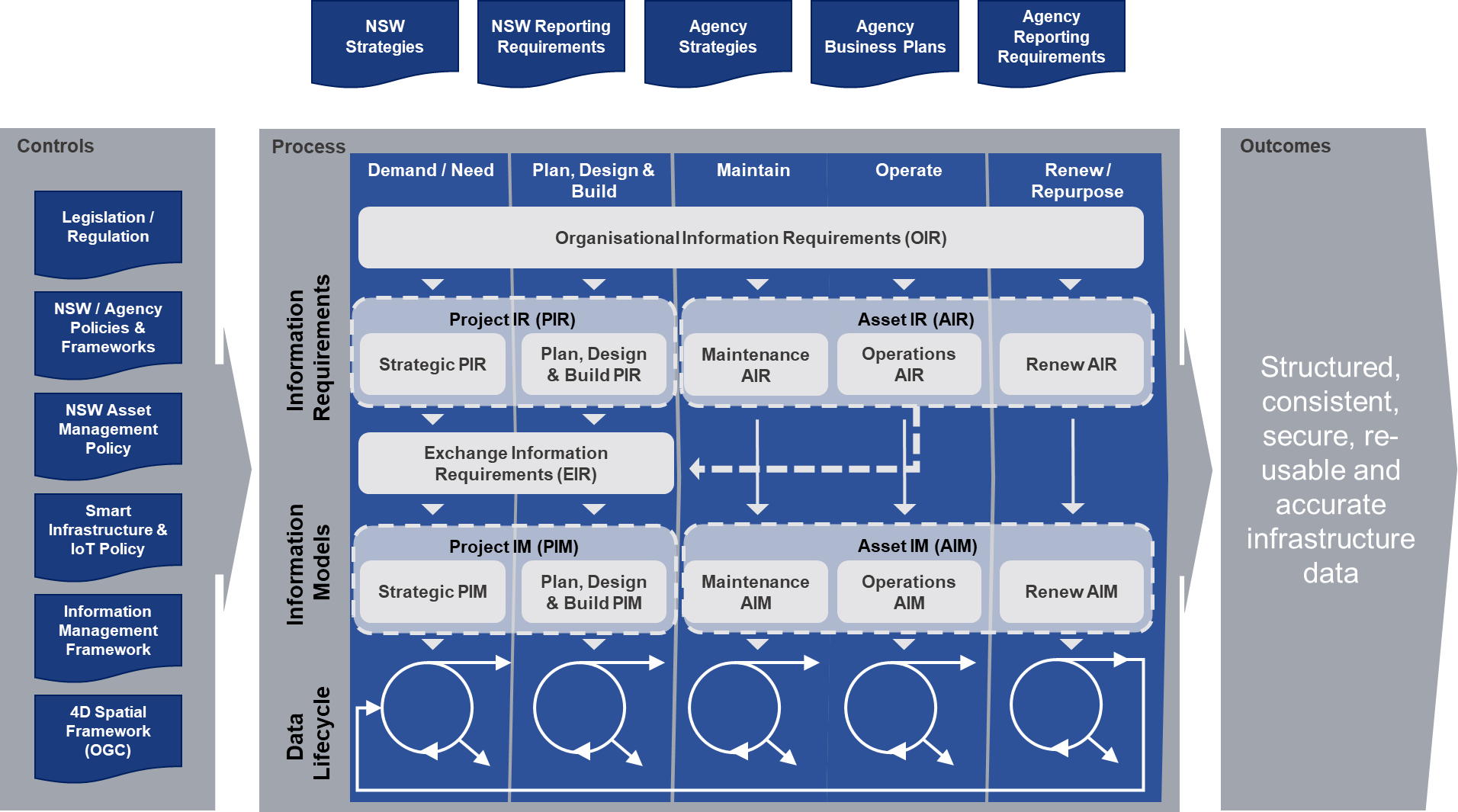 A strategic approach to infrastructure data management can significantly improve data assets over time, decrease delivery timelines, and improve insights into business opportunities, providing a substantial return on investment.
This approach could be documented in an agency specific Strategic Infrastructure Data Management Plan including:
Clearly-defined agency vision of the value and use of Infrastructure Data
Gap Analysis

Current-state & future-state of Infrastructure Data (linked to Asset Management / Digital Engineering Maturity Assessments)
Current-state and future-state reference architectures

An Agency Infrastructure Data Management Framework

Data management maturity model and road map

Adoption strategy
Integration strategies (for people, process, technology, and data)
Communication plan
Additional templates will be developed as part of the broader IDMF to support agency implementation.
What additional guidance or templates does your agency require to use the IDMF as a reference for development of your agencies approach to management of infrastructure data? Can you provide examples that can be included in future iterations of the IDMF?
Contact the IDMF development team via email at datansw@customerservice.nsw.gov.au