Connect with Alexandra Peattie on LinkedIn
The Data Analytics Centre (DAC) Program and Practice team is developing a digital tool that NSW Government agencies can use to create comprehensive and fit-for-purpose data sharing agreements. As part of this project, we've developed a fast-track prototype that we are testing with data users across government.
Data sharing can be complicated
Data sharing raises a whole host of questions around data rights, ownership, use, privacy and risk that can seem overwhelming when first encountered. While most would agree that appropriate sharing of data across government leads to better public policy and decision-making, the prevalence of inconsistent processes and confusing data sharing rules are a big hurdle.
Government agencies are governed by more than 500 different rules, laws, and regulations that restrict access to data. It's little wonder that the public servant's default position is to say no to requests for data to be shared – even when benefits to the community are significant.
Data sharing agreements are confusing, take time to negotiate and vary greatly across government
One of the things we've heard time and time again from data users is that the process of developing Data Sharing Agreements (DSAs) is one of the biggest barriers to data sharing. Agreements are generally negotiated via complicated and time-consuming Memoranda of Understanding (MoUs) that can take anywhere between months and years to execute and incur significant costs in policy, project and legal officer time.
The content of these agreements also varies significantly between agencies and even internally across teams. This makes it difficult to establish a shared understanding of each agency's data sharing responsibilities. The lack of standardisation means that DSAs are constantly being created from scratch, or worse, old agreements are being adapted that are not necessarily appropriate or beneficial for either agency.
Prototyping the DSA Generator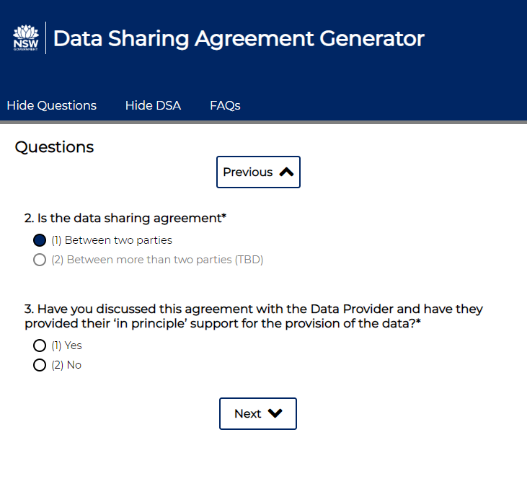 To tackle this challenge, the DAC is developing a digital tool to simplify and streamline the process for developing cross-government data sharing agreements.
Our aim is to make data sharing easier and safer for NSW Government agencies by developing a tool that will:
Reduce confusion around data sharing
Foster trust and provide greater clarity around each agency's responsibilities
Decrease the time and effort required to execute agreements
Enable speedier exchanges of information and approval
Increase auditability by creating a centralised digital history of the Agreement
How does it work?
The tool asks the Data Recipient and the Data Provider some simple questions about themselves, the data being shared and how they intend to protect the data from unauthorised use and disclosure.
The purpose of these questions is to ensure that critical information – the where, why, what, who, how, and when of the data to be shared – is agreed to and clearly documented. This information is then used to generate the DSA – an editable Agreement that is stored in a secure, centralised repository and accessible only to the parties of the Agreement.
The tool also contains questions that are designed to strengthen the security of the data sharing arrangement. These questions are based on the internationally-recognised 'Five Safes' data sharing risk management framework that guides agencies on how to share government data safely.